Housekeeping: Linda Riner
Maintenance: Charlie Krizek
Lead Nursery Caregiver: Patricia Illgner
---
Msgr. Timothy Keeney, Pastor
Rev. Msgr. Ti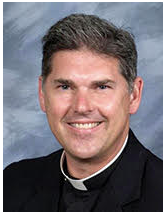 Timothy E. Keeney was born in Akron, Ohio on November 24, 1960. His father, Richard Keeney worked for the Norfolk Southern Railway and this took the family to Saint Louis, Missouri and then to Roanoke, Virginia. It was there that he first met the Redemptorist Fathers. Attracted to their life and mission, in 1975 he began priesthood formation at their Minor Seminary, Saint Mary's Seminary, in North East, Pennsylvania for high school, Saint Alphonsus College in Suffield, Connecticut for college (B.A. in Philosophy), and Mount Saint Alphonsus Seminary and Washington Theological Union for graduate seminary formation. Leaving formation prior to ordination, Msgr. Keeney attended Washington & Lee University School of Law in Lexington, Virginia. Graduating in 1990, he then joined the law firm of Williams, Kelly & Greer, P.C. in Norfolk Virginia as an Associate. Returning to priestly formation for the Diocese of Richmond in the Winter of 1993, Msgr. Keeney was sent to Rome to complete his studies at the Pontifical North American College and the Pontifical Gregorian University in Rome. He was then ordained a priest in June of 1996. After ordination and additional studies in Rome post-ordination he was assigned as a Parochial Vicar at the Basilica of the Immaculate Conception in Norfolk (1996), and then as Parochial Vicar at Our Lady of Mount Carmel in Newport News, Virginia (1997-2001). In 2001 Msgr. Keeney was assigned to Saint Anne Catholic Church in Bristol, Virginia/Tennessee as Pastor. It was there that he worked with Burwil Construction of Bristol, Tennessee on his first Design/Build project which was a 4.1 million dollar expansion of Saint Anne Catholic School. Msgr. Keeney was then assigned as Pastor to Saint Bede Catholic Church in January of 2013. In February of that year he received the papal honor of being named a Chaplain to His Holiness with the title of Monsignor. Beginning in late 2014 and early 2015 he helped guide the parish through the building process in Williamsburg. He has served on many Diocesan committees in the past and currently serves on the Priests' Benefit Committee and Priests' Advisory Council.  Msgr. Keeney has served as pastor of Incarnation since 2019.
---
Fr. Chris Masla, Parochial Vicar
Fr. Chris Masla was raised in a Catholic family, the oldest of 3 boys. His father had a career in the Navy, and the family lived in various places up and down the East Coast of the U.S. until finally settling in Williamsburg, VA in 2003. After high school, he attended Virginia Tech, where he was actively involved in the Newman community (Catholic Campus Ministry) and began to discern a call to the priesthood. After graduating with a Bachelor's degree in Business Management in 2013 he entered the seminary at The Catholic University of America in Washington, D.C. Fr. Chris was ordained a priest for the diocese of Richmond at the Cathedral of the Sacred Heart on June 1, 2019, and began his ministry at Incarnation in August, 2020.
As a Hokie, it may take some time for Fr. Chris to adapt to living in Charlottesville, but he loves the mountains and the outdoors. In his free time, he enjoys hiking, playing sports, reading, live music (especially bluegrass), and playing the guitar and the 5-string banjo, especially at jam sessions.
---
Deacon Chris Morash
Deacon Chris was born in Halifax, Nova Scotia, Canada in 1950. He is the son of the late Parker and Mary Edith Morash and has a brother Nick who still lives in Halifax. Deacon Chris' sister Mary-Anne passed away in 2012. Growing up Deacon Chris attended St. Francis Elementary School, St. Patrick's High School, Dalhousie University in Halifax and later the University of Victoria in Victoria, British Columbia.
Deacon Chris began the study of piano at age seven and received his grade ten in piano through the Royal Toronto Conservatory of Music. In his first year of high school in 1965 and at the beginning of the liturgical changes of the Second Vatican Council Deacon Chris was invited to play the organ at St. Mary's Cathedral Basilica in Halifax, Nova Scotia for Sunday Liturgies. He remained there becoming the principal organist until 1971.
In 1971 Deacon Chris enlisted in the Canadian Forces as a musician. He completed basic training in January 1972 at CFB Cornwallis and was posted to the Canadian Forces School of Music in Victoria, British Columbia. During his time as a student musician at the Canadian Forces School of Music, Deacon Chris became the principal Organist and Director of Music and Liturgy at St. Andrew's Cathedral in Victoria. During those years at St. Andrew's Cathedral he collaborated closely with Bishop Remi De Roo, the then Bishop of Victoria and a father of the Second Vatican Council. During his twenty-four years in the Diocese of Victoria Deacon Chris facilitated many liturgy and music workshops both within the diocese and outside of the diocese. For several years Deacon Chris was a member of the Liturgical Committee of the Western Conference of Canadian Bishops. For over thirty years Deacon Chris has been a member of the National Pastoral Musicians.
While in Victoria Deacon Chris was fortunate to bring to the diocese several noted composers of liturgical music. Three of those noted composers who came to the Diocese of Victoria were Fr. Bob Dufford, Dan Schutte and Tim Manion from a group known as the "St. Louis Jesuits." At the same time the St. Louis Jesuits were doing graduate work in music at Seattle University. In 1986 Deacon Chris was invited to sing in the choir for the St. Louis Jesuits recording "The Steadfast Love." That same year Deacon Chris collaborated with Fr. Bob Dufford, SJ in writing the keyboard arrangements for two of his compositions "All the Ends of the Earth" and "Save Us, O Lord," subsequently published by Oregon Catholic Press.
Deacon Chris completed his Bachelor of Music in organ performance and conducting and graduated from the University of Victoria in 1994 "with distinction." In 1996 Deacon Chris came to Charlottesville as the Director of Worship at the Church of the Incarnation. He met his future wife Peggy Cornett in the parish and they were married on May 9, 1998. Peggy is the Curator of Plants at Monticello. Deacon Chris entered the Richmond Diocesan Permanent Diaconate Program in September of 1999 and completed his diaconal formation through the Benedictine School of Theology at St. Meinrad's Archabbey. Chris was ordained a deacon by Bishop-Emeritus Walter Sullivan on February 15, 2003. In August 2010 Bishop Francis X. DiLorenzo invited Deacon Chris to be the Director of the Diocesan Office of Worship of the diocese of Richmond.  Deacon Chris retired from his role with the diocesan office in 2015, and from staff at the parish in 2020.  Nevertheless, he is still an active deacon, and helps oversee pastoral care.
---
Deacon Tom Healey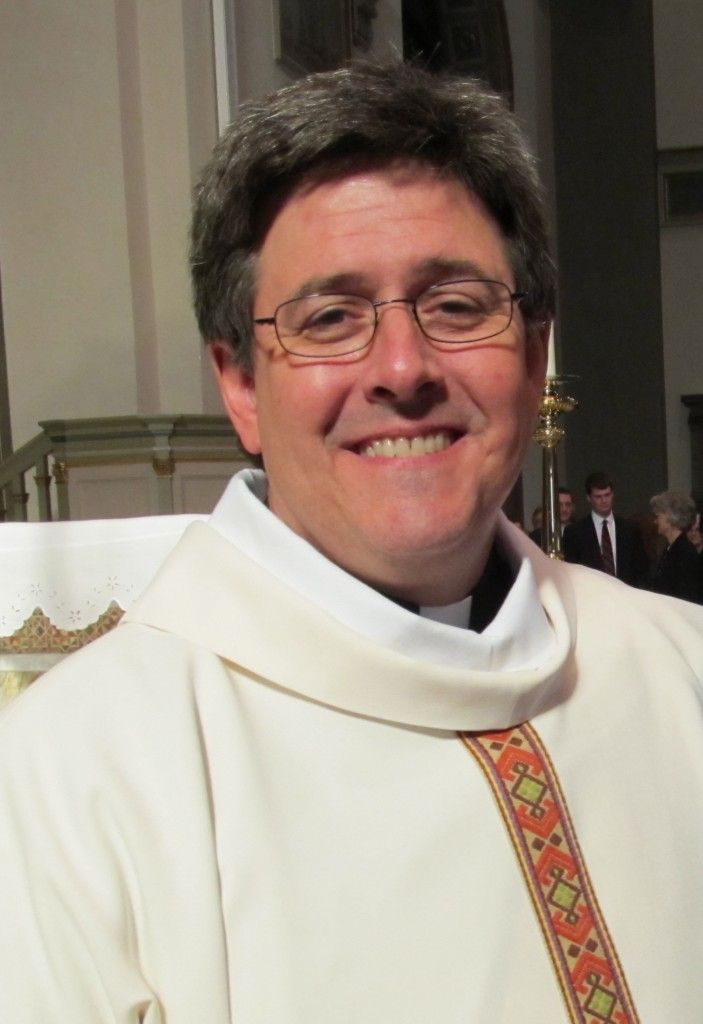 Deacon Tom was born in Cambridge, MA in 1960. He is the son of the late Thomas Albert Healey and his mother Virginia Healey lives in Raleigh,NC along with his younger brother Darron. He also has a sister, Maribeth, in Orlando,FL. Deacon Tom spent his high school, college, and early adult years in Southeast Florida, living in Palm Beach and Broward counties. As a consequence of his being born in Eastern Massachusetts, he is cursed and blessed to be a Red Sox fan.
Deacon Tom was married to Jo Ann Kelley in 1994 and has two adult children. He moved to Charlottesville in 1995.
Deacon Tom is a Software Engineer by trade with a Bachelor of Science degree from Florida Atlantic University, Boca Raton, FL. His career includes work with embedded systems and he has worked for ABB and GE as well as Value America and MusicToday. He is now employed by the University of Virginia as a Systems Engineer.
In 2007, Deacon Tom felt the call to the diaconate and was accepted to the newly formed cohort. He received a Master of Arts Degree in Theology from Saint Leo's University as part of his diaconal formation. He was ordained in November 2012 by Bishop Francis X. DiLorenzo, Bishop of Richmond, to serve the people of the diocese. He has served the people of Incarnation since his ordination.
---
Israel Menchero, Business Manager

Izzy was born in Holguin, Cuba, and immigrated to the United States in 1961 at the tender age of 15. After finishing high school in Miami, Izzy moved to Connecticut to study history at Sacred Heart University, where he was a member of the first graduating class and where he so happened to bump into his future wife, Lynette. After a stint in Chicago where he earned his MA in Latin American Studies at Loyola University, he returned to Connecticut, married Lynette, began a career as a teacher and a coach, and added the title of "Dad" to his resume with the birth of his daughter, Sumner.  Izzy and Lynette dedicated themselves to Catholic education, both in their professional endeavors as teachers and within their own family, sending their daughter through 12 years of Catholic schooling.
In addition to his time in the classroom and on the athletic field, Izzy served in Catholic institutions as principal of St. Malachy's School in Tamarac, FL; parish administrator of Our Lady Queen of Martyrs in Ft. Lauderdale, FL; development director at the Catholic Legal Immigration Network, an organization that works to aid immigrants entering the United States; and as both a team member and capital campaign director for two companies, specializing in fundraising campaigns in Catholic parishes and dioceses around the country. In these posts, he facilitated development efforts in churches and dioceses in Virginia, Massachusetts, Connecticut, Florida, Michigan, Georgia, and California. Izzy also served as Director of Development with the Roanoke Valley Chapter of the American Red Cross.
In his spare time, Izzy enjoys the University of Miami football (with apologies to UVA fans), the Washington Nationals, Boston Red Sox, David Baldacci books, his dog with a Napolean-complex, and the company of his wife and daughter.
---
Sheila Herlihy, Coordinator of Justice & Charity
Sheila was born and raised in Ohio, one of five siblings in a faith-filled, active, and supportive family. She has since galavanted around the country and the world, going to college in southwest Ohio, studying abroad in the Dominican Republic, visiting family in Ireland, and making several pilgrimages in Europe. Prior to Incarnation, Sheila worked with Franciscan Volunteer Ministries on the east coast. There she has gotten the opportunity to put her faith into action, in part by living in solidarity with the people she served.  She spent time at a soup kitchen in Philadelphia, doing everything from working at a women's center to coordinating meals. Then she moved down to Wilmington Delaware, where she was able to be involved in prison ministry, ESL classes, migrant ministry, and a host of other things. Through this experience, Sheila felt the call to further ministry and has been working at Incarnation since 2013.  She joined the Secular Franciscan fraternity in our parish and professed to the Gospel life with the Secular Franciscans in September of 2017.
Sheila appreciates music, and shares that appreciation by singing, playing the ukelele, and dancing (especially swing and salsa dancing).  She enjoys writing letters, knitting hats, reading books, and watching good sports.  Also the Cleveland Browns.  She is deeply inspired by the passionate and dedicated community here at Incarnation. Having lived in the community for most of her life, she has come to recognize that God often manifests himself through other people. She has seen that in this parish, and looks forward to the next steps as we grow together.
---
Patrick Drury, Director of Youth Ministry
Patrick Drury was born and raised in Alexandria, VA. He graduated from the University of Virginia in 2000 with a BA in psychology. While at UVA he served as the Chairman of the Catholic Students Association and was the founding President of One in Four, an all-male sexual assault peer education group. After graduating, he worked at Marymount University in Arlington, VA as the Assistant Director of Campus Ministry. In 2002 he married his lovely wife, Cynthia, and they moved to South Bend, IN where she received her MTS in Biblical Studies from Notre Dame. While there, Patrick worked as the Volunteer Coordinator at the local rape crisis center and then served as the Director of St. Joseph County Right to Life. Patrick then served for seven years as the Director of Youth Ministry at Good Shepherd in Alexandria, VA. He began serving at Incarnation in September 2011.
Patrick and Cynthia have two daughters, Isabelle and Sophie, who occupy a large amount of their time and energy. Patrick also enjoys playing and watching sports, hiking, movies, board games, and eating (especially with friends).
---
Erica Shortridge, Coordinator of Christian Formation
Erica was born in New York, raised in New Jersey and found her way "down South" to attend the University of Virginia in 1994. She's a proud WAHOO and mom to a future UVA graduate in 2022. Her immediate family of 4 growing up was small but felt huge amongst the love and support of countless cousins, aunts, uncles, grandparents, foster-siblings and friends. Erica has been an active member of our parish community since 2002. She was a Catechist for our Little Christians from 2004-2016 leading our sweet 3-year-olds to know how special they are to Him. During the summers of 2010-2016, you may have seen Erica dressed as a Western gal, Beach Life Guard or Safari Guide as our Vacation Bible School Director. And during Christmas of 2008-2015, where there was a 3-year-old angel or live "baby Jesus", there you would find Erica leading our Nativity play for our preschool & elementary-aged children and Celebration of the Family Day of fun. Erica's passion for service extends to the food insecure, through her work as a Food Ministry Team Member in 2011-12 and then a Team Leader in 2013-2017. She is the loving mother of two teenage girls and three young sons. Erica "Walks by Faith" sharing her journey as a foster mother and believer in the village that it takes to raise a child. She is excited by the opportunity that this new role brings, to personally grow closer to Christ and bring others to the joy that she knows He offers.
---
John Kronstain, Coordinator of Worship
John Kronstain was born in the Eastern Vicariate of the Diocese of Richmond. He went to James Madison for undergrad, where he participated in marching band and met his wife Sara, then attended UVA for grad school, where he got his Masters in counseling. Currently, he works full time as a Middle School counselor in the city of Charlottesville. John has been the interim director of worship here at Incarnation since February of 2020, so much of his first year was defined by the global pandemic. Even so, he loves Jesus a lot. He lives with his incredible wife and three beautiful children (they're all cooler than him), and his favorite and first vocation is being a dad. John enjoys local beer, jam sessions on many instruments, and hanging out with friends.
---
Jane Lilly, Administrative Assistant/Bookkeeper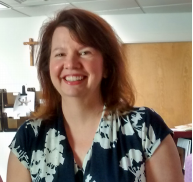 Jane holds a B.S. Degree in Chemical Engineering from the University of South Alabama and serves as a catechetical leader and office volunteer at Shepherd of the Hills in Quinque, VA. Jane resides in Ruckersville, VA with her husband Terry and their two children Megan and Nathaniel. In her spare time Jane enjoys reading, sewing, and supporting high school and college marching bands.
---
Sarah Phillips, Administrative Assistant
Sarah was born in Nelson County, VA and lived there for 18 years. She recently moved to Charlottesville to pursue an education at PVCC. Her goal is to transfer and graduate from UVA with a focus on the Spanish language. Sarah's duties in the parish office include being the point of contact for parishioners who call or come into the office, scheduling the calendar, and writing the bulletin.
---
Linda Riner, Housekeeping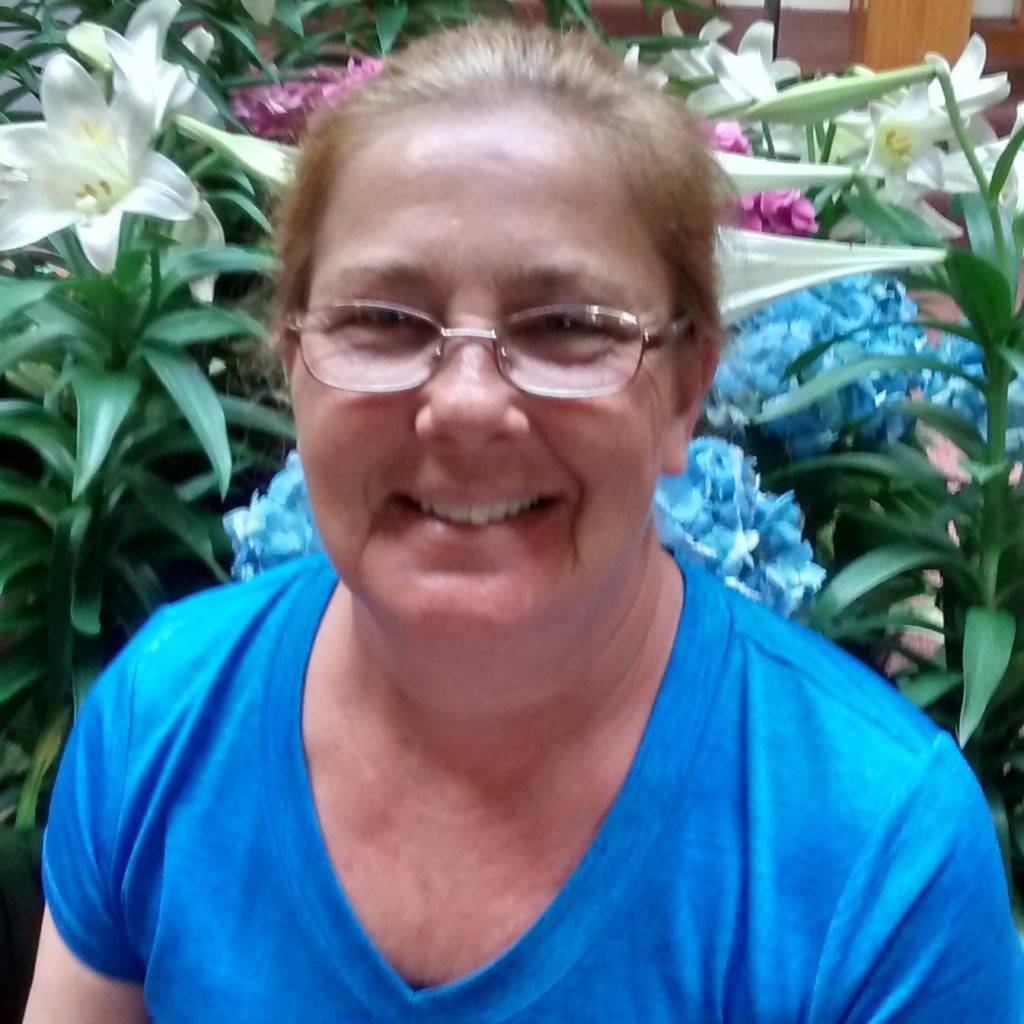 ---
Charlie Krizek, Maintenance
---
Patricia Illgner, Lead Nursery Caregiver
Patricia was born in South Africa and lived there until 2017 when she immigrated to America to live with her son and his family here in Charlottesville. Since 2017, she has been employed as an Early childhood teacher at the Waldorf school. Her family consists of 2 sons, their wives and 4 grandchildren.  In 2015, she took a month off to walk the El Camino de Santiago pilgrimage in Spain.  While living in the beautiful Winelands region near Cape Town, she was a Church nursery caregiver, arranged flowers for mass and was an Alpha group leader.  Her interests are reading, travel, hiking, tennis, cycling, swimming and music.