"It is necessary not only to relieve the gravest needs but to go to their roots, proposing measures that will give social, political and economic structures a more equitable and solidaristic configuration." [Pope Emeritus Benedict XVI]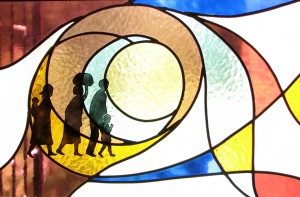 Incarnation parishioners are active in efforts to bring justice and peace to our community and our world.  That is, to address the roots of systems that prevent people from experiencing their full, God-given human dignity.
The ministries listed below are some of the initiatives we participate in to address these injustices, both locally and more broadly.  To learn more or get involved, reach out to our Coordinator of Justice and Charity, in the office or by email.
Also, we know our works of justice are incomplete without also focusing on Charity and Formation.  Check out those pages to learn more!
Green Team: This group discusses how Incarnation can do a better job of caring for God's Creation.  We believe that taking care of the earth is part of our responsibility as people of faith.  By engaging in education, advocacy, and action, we work to promote a right relationship with our planet and lifestyles that leave smaller footprints on our earth.  Together, we have expanded our parish recycling efforts and started composting.  The Green Team inspired the creation of the Community Garden, and holds annual events for Earth Day and the Season of Creation.  We also participate in local efforts through the Community Climate Collaborative, and enjoy using the many resources provided by Virginia Interfaith Power and Light and the Catholic Climate Covenant.  Join us for our monthly meetings to hear more!
Haiti Ministry: Solidarity is caring for all of humanity as our brothers and sisters.  Incarnation expresses our solidarity through our twin relationship with the Little Sisters and Little Brothers of the Incarnation in Pandiassou, Haiti.  Together, both communities have the opportunity to grow closer with Christ, through our yearly visits, financial support, and solidarity events.  Check out our Haiti page for more information!
Immigrant Rights: Incarnation is the spiritual home to many immigrants and Latino families in the Charlottesville area, and, as such, our parish is well aware of many of the obstacles they face, regardless of their documentation status, as they continually become more integrated into the mosaic of people who comprise the United States.  We draw from the guidance of the Church, as well as the lived realities for many of our brothers and sisters in Christ, to shape our response and action on immigration issues.  (For more on the Catholic campaign for comprehensive immigration reform, including bishops' letters and statements, go to the USCCB's Justice for Immigrants website.
IMPACT (Interfaith Movement Promoting Action by Congregations Together): This community organizing group unites 25 congregations in the Charlottesville/Albemarle area to make our community more like the city of God.  Our goal is to get our whole parish involved in pushing for justice.  Every fall we choose our issue based on stories raised at small group meetings, research it through the winter and spring, and finish with a Nehemiah Action where we hold local officials accountable.  Check out IMPACT's website, or email Sheila for information on how to get involved!
Legislative Advocacy: We know that neither political party and no political candidate represents Catholic values, so we as Catholics are called to advocate for laws and policy that promote the common good.  We encourage you to sign up for email updates from the Virginia Catholic Conference and the Virginia Interfaith Center for Public Policy for state-wide initiatives, as well as those from the US Conference of Catholic Bishops for national issues.  Check out our Faithful Citizenship page for more details.
Life Issues: As Catholics, we know life must be protected from conception to natural death.  Therefore, we participate in 40 Days for Life to be a prayerful presence against abortion, and we are also active with Virginians for Alternatives to the Death Penalty.  Many of our parishioners support Thrive Women's Health with finances and volunteer hours.  Reach out to Sheila if you're interested in getting involved!
Peace & Nonviolence: Working for peace and nonviolence is an important part of our call on earth.  We host prayer services and educational events around these topics, and encourage you to find more resources from Pax Christi and Pace e Bene
Racial Justice: Racism is an assault on human dignity that we must confront wherever we see, at both the personal and institutional levels.  Check out our resource page for more details on our work in this area, and links to learn more!  Also, the Charlottesville Clergy Collective has been standing strong against racism since 2017, and their page has additional resources.