"Because we cannot see Christ we cannot express our love to him; but our neighbors we can always see, and we can do for them what, if we saw him, we would like to do for Christ."  [Mother Teresa]
As Catholic Christians, we are called to be the living Body of Christ in a world in need, and that involvement in ministry is a response to our baptismal call.  Our Incarnation community is known throughout Charlottesville for our compassionate and generous response to people in need.  The ministries listed below are some of the ways we reach out to our brothers and sisters within and beyond our parish.  To learn more or get involved, reach out to our Coordinator of Charity, in the office (434-973-4381) or by email.
Also, we know our works of charity are incomplete without also focusing on Justice and Formation.  Check out those pages to learn more!
Angelic Gifts: Every year, leading up to Christmas, we work with Offender Aid and Restoration (OAR), the Pregnancy Centers of Central Virginia (PCCV), and Region 10 Project LINK, as well as our own parish outreach ministries, to identify individuals or families who could use some extra assistance during the holidays.  After collecting information about clients' needs and wants, we invite parishioners to "adopt" someone and shop for one or more of the gifts they requested.  In a season of abundance (and always), we believe it is so important to be aware of and reach out to our  brothers and sisters on the margins.
Alternative Giving Fair: Sometimes we get caught up in giving the latest gadget for Christmas.  It's important to remember the true spirit of this holiday, and maybe take advantage of this opportunity to give in a different way.  Incarnation hosts an Alternative Giving Fair every Advent.  We offer fair trade items for sale, and encourage parishioners to purchase "Alternative Giving" cards, donating in someone's name to various ministries and nonprofits.
Community Garden: We are delighted to celebrate God's creation through our community garden!  Parishioners can sign up for a plot in early spring, and together we use organic methods and rain water to cultivate bounty using God's gifts. We want our garden to be a place where our whole community feels welcome and can learn!  Bring kids into the garden too so that they can learn more about where their food comes from and how we can take care of God's gifts of creation.  However, please do not walk on the beds, and be sure to shut the gate behind you.
Emergency financial assistance: We are one family in Christ, and that means taking care of our brothers and sisters experiencing hard times.  If you or someone you know is having trouble paying their bills, please call the office at 434-973-4381 or email the Coordinator of Charity.  You can also check out the United Way Quick Guide for other local resources, or these guides to Covid-19 resources in English or Spanish.
ESOL (English for Speakers of Other Languages): Both the Incarnation teachers and students have commented on how much they benefit from crossing language and cultural differences and getting to know people from different backgrounds than themselves. For more information, please contact Sin Barreras at (434-531-0104).
Food Ministry: One of the most important works of mercy is feeding the hungry.  Our parish food ministry distributes food every Sunday from 1:30-3:30pm.  In order to make this work, we need lots of help!  To get involved email Marta Daley!
Health Ministry: In partnership with the Latino Health Initiative at UVA, we provide blood pressure screenings and talks about maintaining good health every 3rd Sunday of the month after the Spanish 1:30PM mass.
Prayer Shawls: Inspired by nurses in our health ministry, we have parishioners who crochet and knit shawls for people experiencing sickness or loss.  Check out the page for more details or to get involved, and call the office if you would like a shawl for yourself or a loved one.
PACEM (People and Congregations Engaged in Ministry): We shelter the homeless for two weeks every winter as part of PACEM, a traveling shelter housed in churches.  Check out our ministry page for more details!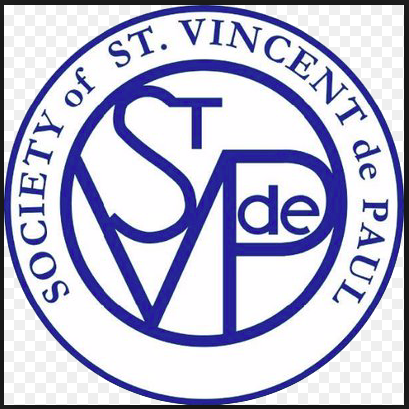 St. Vincent de Paul: The St. Vincent de Paul Society is an international confraternity that focuses on helping its members grow in virtue by following Christ's example of service to the poor. In Charlottesville, the three Catholic parishes have teamed up to form the Holy Trinity conference of the St. Vincent de Paul Society. We are still in the process of putting together our conference, so feel free to come to a meeting or reach out for more details.  For more details, feel free to reach out  Mark Ross, the new president of our conference.  For more details, here is the national web site for the Society and the page for our local Holy Trinity conference,
Community Partnerships:  We collaborate with other organizations in our local area to serve people in need, especially the ones listed below. Feel free to reach out to the office if you'd like to see Incarnation partnering with another organization!