What is ChristLife? ChristLife is a program that invites Catholics to personally encounter Jesus Christ and be transformed into His missionary disciples.
Why is The Church of the Incarnation doing ChristLife? For others to encounter the love of God the Father, enter into or renew a personal relationship with Jesus Christ, be empowered by the Holy Spirit to live as God's children, grow in that relationship and help others do the same.
Fall 2019 Discovering Christ is now OPEN for registration (Tuesdays or pick another below, 6-8:30 pm, Oct 1st – Nov 19, 2019_Retreat: Sat, Nov 9th)
-Click here to register for Tuesday Evening meetings of Fall 2019 DC.
-Click here to register for a Non-Tuesday Evening meeting for DC.
The ChristLife Program is made up of three parts:
Discovering Christ: A seven-week experience that invites you to hear the Good News and personally encounter Jesus Christ.
Following Christ: A seven-week journey that explores and encourages Catholic discipleship.
Sharing Christ: A seven-week mission that trains Catholics to share Jesus Christ with others and invite them to be part of the Church.
Each weekly session includes a prayer time, a video teaching, and small group discussion (Discovering Christ also includes a meal):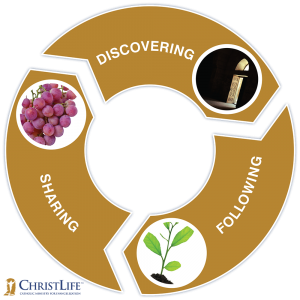 ChristLife Calendar for 2019 :
It is the Parish's intention that the ChristLife program will continue, year-after-year for the foreseeable future. If your personal calendar cannot accommodate the current schedule, let us know (Incarnation Office) and we will try to adjust in the future. It is our goal to get as many parishioners through the program as possible.
Want to lend a helping hand? Click (HERE)!
 Fewer than four in 10 Catholics attend church in any given week.
 Catholic attendance at Mass is down six percentage points over the past decade.
Source: news.gallup.com