Infant Baptism
This is for families seeking Baptism for their infants or preschool children. For a child to be baptized, there must exist a "founded hope" that the child will be raised in the Catholic Faith.  This "hope" rests primarily on the pledge of the parents or guardians, as articulated in the Rite of Baptism for Children: "You have asked to have your child baptized.  In doing so you are accepting the responsibility of training him (her) in the practice of the faith". The word "practice" indicates that parents ought to be models of the faith in the daily life of their family, teaching the faith to their children by word and example. ~taken from the Sacrament of Baptism of Infants, Diocese of Richmond Pastoral Directives.
Within the mass, we offer frequent opportunities for Baptism every year. Please click on "frequent opportunities for Baptism" and/or contact the Parish Office for further information.
Infant Baptism Resources: Godparent/Sponsor Attestation Forms, Registration for Baptism
Questions? Interested in sacramental preparations? Contact Erica
Baptism for Children of Catechetical Age (7+), Grades 2-12.
Those children who are of school age and have not been baptized are invited to participate in catechesis designed specifically for children. Parents along with the children, attend special learning sessions; sponsors welcomed. Please reference our Children's Christian Formation page for more information.
Sponsor Resources: Sponsor Forms & FAQs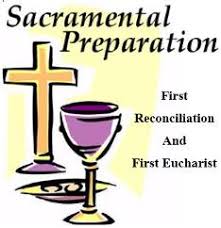 First Reconciliation and First Eucharist
Children wishing to prepare for the Sacraments of Reconciliation and Eucharist (which typically occurs in 2nd grade) should be enrolled in our Christian formation program. If the child attends a Catholic School, participates in our FIRE program, and/or appropriate home school course loads, attendance through the parish for Sacrament specific study is also required (contact us to discuss). There is a $30 fee for Sacramental preparation materials.
Blessed: Sacramental Preparation by Dynamic Catholic
Watch the videos here, and sign up for the Parent Email Program here. (Optional)
From September through December, children prepare to celebrate the Sacrament of Reconciliation. Parents may request Blessed – Reconciliation books by Dynamic Catholic to support catechesis in the classroom, at home with their children.
Preparation for 1st Eucharist begins in mid-January and continues until after Easter, when children celebrate the Sacrament during liturgies in May. Parents may request Blessed – Eucharist books by Dynamic Catholic to support catechesis in the classroom, at home with their children.
Confirmation
See our Confirmation page for details.