From our Parish
Invitation to worship…
From our Pastor
Dear Friend in Christ,
Welcome to the Church in northern Charlottesville named in honor of the Incarnation of the Word of God. The name of the parish is very significant in identifying what that Christian community is about. The mystery of the Incarnation reveals to us that the living God became fully human without surrendering His divine nature. Since then all humanity will never be the same; God has becom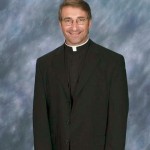 e organically united with the human race.
Therefore, all that is human is holy, and we celebrate that here in this Christian community. We consecrate our tongues to the Lord by praying and singing with enthusiasm, using our human bodies as instruments for His glory. We love to laugh and be with each other in good cheer and Christian fellowship. We become fully involved in being present to God and others in our humanity. We cherish and honor Christ present in human beings who are needy, either materially or spiritually, by compassionately seeking to meet their needs. We are pleased that you have chosen to participate in this holy, human adventure with us!
Since we are human there co-exists in each one of us a miserly, selfish ego and the beauty of the indwelling Christ. We invite you to be patient with us when manifestations of "the old self" appear. We are all together in trying to dispose ourselves for the divinizing action of Christ in us. Let's remember to help each other and not be a hindrance to each other in that glorious process!
I am your pastor, appointed by our Bishop, and I will do my best to be there for you in public and private prayer, preaching, compassion, and direction. I am always willing to talk with you about any concerns or delights you may have.
Again, welcome! We all look forward to meeting you and becoming friends in Christ.
Sincerely in Christ,
Reverend Gregory Kandt, Pastor
Contact Us
Call the Parish Office at 434-973-4381 to ask us any questions. That's what we are here for!
Mass Guide for Visitors
Upcoming Events can be seen in our latest bulletin.