From our Pastor
Dear Friend in Christ,
Welcome to the Church in northern Charlottesville named in honor of the Incarnation of the Word of God. The name of the parish is very significant in identifying what that Christian community is about. The mystery of the Incarnation reveals to us that the living God became fully human without surrendering His divine nature. Since then all humanity will never be the same; God has become organically united with the human race.
Therefore, all that is human is holy, and we celebrate that here in this Christian community. We consecrate our tongues to the Lord by praying and singing with enthusiasm, using our human bodies as instruments for His glory. We love to laugh and be with each other in good cheer and Christian fellowship. We become fully involved in being present to God and others in our humanity. We cherish and honor Christ present in human beings who are needy, either materially or spiritually, by compassionately seeking to meet their needs. We are pleased that you have chosen to participate in this holy, human adventure with us!
Since we are human there co-exists in each one of us a miserly, selfish ego and the beauty of the indwelling Christ. We invite you to be patient with us when manifestations of "the old self" appear. We are all together in trying to dispose ourselves for the divinizing action of Christ in us. Let's remember to help each other and not be a hindrance to each other in that glorious process!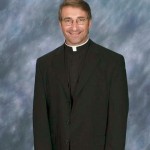 I am your pastor, appointed by our Bishop, and I will do my best to be there for you in public and private prayer, preaching, compassion, and direction. I am always willing to talk with you about any concerns or delights you may have.
Again, welcome! We all look forward to meeting you and becoming friends in Christ.
Sincerely in Christ,
Reverend Gregory Kandt, Pastor
Our History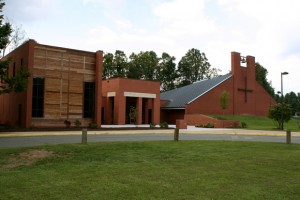 The first Mass on record in Charlottesville was celebrated about 1859. By 1954, the parish had grown so large that the Branchlands estate on Route 29 was acquired. The property included a large house and stone barn which was converted into a chapel. By 1960, a Catholic school, staffed by Dominican Sisters, was opened at the site.
In 1970, the school closed but a need for a church at the site was apparent. Branchlands Catholic Community, as it was temporarily named, was begun on February 16, 1976. Fr. William Gardner was the first pastor of the new church. A renovation committee was soon formed to address the issues facing this young community of 220 families.  Our parish formed from our sister parish, Holy Comforter Church (more about our early church history at Holy Comforter history page)
When it was determined that renovations to existing buildings would be too costly, architects were commissioned to plan a new worship center. Funds for the worship center came from the estate of Gwendolyn and Anthony Rives, through the sale of property, and the generous gifts of members and friends of the community. Ground was broken for the new worship center on March 16, 1980. Dedication took place on December 21, 1980.
In 1981, Fr. Michael McCarron became the second pastor of the young parish. Fr. Mike served the parish for nine years. This was a time for building community and developing ministries which became active within the parish and the Charlottesville community.
Fr. William LaFratta became the third pastor in 1990. Fr. Bill served the parish for eleven years and helped build many ministries including our Youth and Haiti twinning ministries; he retired in 2001.
Fr. Gregory Kandt is our current pastor (2001 – present).  Ministries continue to be developed and our service to the parish and Charlottesville communities continues to grow.  Following is a video about the history of the Diocese of Richmond:
Parish Organization
Parish Pastoral Council
The Parish Pastoral Council is an elected body responsible for providing vision and direction for the parish, establishing priorities, and seeing to their implementation in conjunction with the parish staff.
Parish Finance Council
This council is responsible for recommending fiscal policy, monitoring financial reports, ensuring proper internal controls are in place, auditing the parish financial records, and developing the budget in coordination with the Pastor and Parish Pastoral Council.
Meetings
Times and places of meetings in the parish are announced in the bulletin and on our web site. Announcements must be in the Parish Office by noon on Tuesday to appear in that week's bulletin.
Our Parish Customs
Name Tags
In is our custom to wear name tags when attending Mass as it helps us get acquainted with each other. It is a great help to those of us who can never remember the name of the person who just introduced themselves. You will be provided with a permanent name tag by filling out the request form found in your welcome packet and returning it with your registration.
Fellowship Following Liturgy
Following each Sunday morning Liturgy, parishioners gather for hospitality and fellowship. Coffee and donuts are served. Sign-ups for various parish functions are often held during this time.
Bulletin Boards
The hallway outside the Parish Hall is lined with bulletin boards which feature the activities and events sponsored by the many special groups and ministries of the parish.
Phone Tree
The phone tree and e-mail are an important part of our parish communication system. In the event of a death in the parish or a special event, you will receive a call or e-mail from one of our volunteers.
Funerals
In the event of a death in our parish, the parish community is notified, either through parish announcements at Liturgies, a phone tree, or email. The entire community is encouraged to support the family of the deceased by attending the Mass of the Resurrection. Following the Liturgy, which is held in the evening, the parish provides a reception.
Events
Many times throughout the year our parish family joins in various celebrations. Events include dinners, presentations, and general fun fellowship activities.