"Dear friends, let us not forget the flesh of Christ which is in the flesh of refugees: their flesh is the flesh of Christ. It is also your task to direct all the institutions working in the area of forced migration to new forms of co-responsibility. This phenomenon is unfortunately constantly spreading. Hence your task is increasingly demanding in order to promote tangible responses of closeness, journeying with people, taking into account the different local backgrounds." (Pope Francis 5/24/13)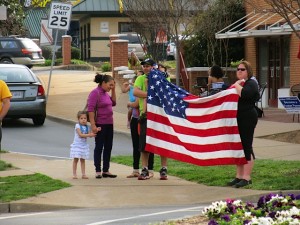 Church of the Incarnation is the spiritual home to many Latino families in the Charlottesville area, and, as such, our parish is well aware of many of the obstacles they face, regardless of their documentation status, as they continually become more integrated into the mosaic of people who comprise the United States.  We also recognize that there are individuals and families from many other areas of the world who are as in need of just, humane immigration policies and reform.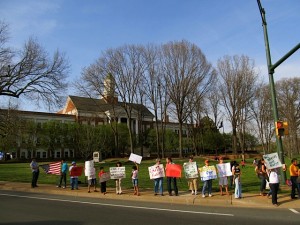 With this in mind, Incarnation has numerous initiatives related to comprehensive, humane immigration reform and education on the issue.  We draw from the knowledge and guidance of leaders of the Catholic Church, as well as the lived realities for many of our brothers and sisters in Christ, to shape our response and action on immigration issues.  (For more on the Catholic campaign for comprehensive immigration reform, including bishops' letters and statements, go to www.justiceforimmigrants.org.)
Pope Francis has called the universal Catholic Church to stand with migrants and refugees on their difficult journeys.  Here in the US, we are doing that through the Share the Journey campaign sponsored by our Bishops and Catholic charities and relief services. for more information on this campaign or to get to know immigrants from all over the world, visit www.Sharejourney.org 
Past events include:
Town hall meetings/workshops with local leaders and community organizations to help with acclimating and accessing services

A "border immersion trip" to El Paso, TX, to learn more about immigration and reflect on it in light of our faith and Catholic Social Teaching (see "Immersion Experiences" to the left)

"Sharing Our Stories" potluck/presentation at which parish families talked about their journeys to the US

Availability of consultations with the Mexican and Central American consulates

Partnership with Sin Barreras (direct outreach to immigrant members of our local community)

Support of Creciendo Juntos (training/education for service providers about issues concerning the Latino population)

Movie/discussion nights on immigrant stories
Our Legislative Advocacy ministry has also been very active on this issue, meeting with elected officials and key players to voice the stances of the Catholic Church and participating in the efforts of existing statewide and national organizations and coalitions.
If you'd like to learn more or get involved, contact our Coordinator of Justice & Charity in the office () or ">Juan Rodriguez.