"Then Jesus took the loaves, gave thanks, and distributed them to those who were reclining, and also as much of the fish as they wanted. When they had had their fill, he said to his disciples, 'Gather the fragments left over, so that nothing will be wasted.'  So they collected them, and filled twelve wicker baskets with fragments from the five barley loaves that had been more than they could eat. When the people saw the sign he had done, they said, 'This is truly the Prophet, the one who is to come into the world.'"  [John 6:11-14]
The Incarnation Parish Food Ministry provides a weekly distribution of groceries, fresh bread, fresh produce, and assorted other items to parishioners in need, particularly those who are not eligible for government-funded food assistance, as well as to non-parishioner Hispanic families and to other families referred to us by local social service organizations.  We are serving over 120 families on a regular (weekly or bi-weekly) basis.
Our Food Ministry is open on Sundays from 2:30-4pm.  Those in need of assistance are asked to go through a simple intake process at the time of their first visit and are guided through the process for getting food on a weekly or biweekly basis.
Your help is needed to ensure that families in our community do not go hungry!  Here's what you can do:
Donate food items.
Donate old grocery bags (paper, plastic, and reusable).
Join our Food Ministry Team!  See our schedule.
If you have children or grandchildren, please consider including them when you give of your time.  This is a great opportunity to help our young people learn about serving those in need.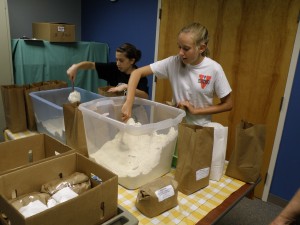 Each week, we receive generous support from Trader Joe's, Bellair Farm CSA, and Chandler's Bakery.  We encourage you to give them your business and to extend a personal thank you for the generous amount of food that they offer to our ministry.  We are also grateful to the Emergency Food Bank, which assists this ministry financially because of our outreach to the Latino members of our regional community.
Contact Sheila at Sheila@incarnationparish.org or Frank D'alessandro at frgldaless@aol.com if you're interested in signing up for the Food Ministry!