Peace and Nonviolence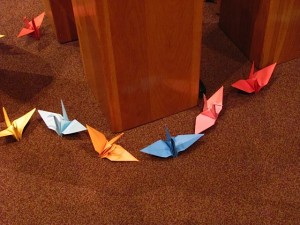 "The world must be educated to love peace, to build it up and defend it." [Pope Paul VI, 1968]
* * *
"Peace is not a dream or something utopian; it is possible. Our gaze needs to go deeper, beneath superficial appearances and phenomena, to discern a positive reality which exists in human hearts, since every man and woman has been created in the image of God and is called to grow and contribute to the building of a new world. God…has entered into history and has brought about a new creation and a new covenant between God and man (cf. Jer 31:31-34), thus enabling us to have a "new heart" and a "new spirit" (cf. Ez 36:26).  For this very reason the Church is convinced of the urgency of a new proclamation of Jesus Christ, the first and fundamental factor of the integral development of peoples and also of peace. Jesus is indeed our peace, our justice and our reconciliation (cf. Eph 2:14; 2 Cor 5:18). The peacemaker, according to Jesus' beatitude, is the one who seeks the good of the other, the fullness of good in body and soul, today and tomorrow." [Pope Benedict XVI, 2013]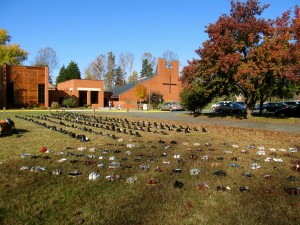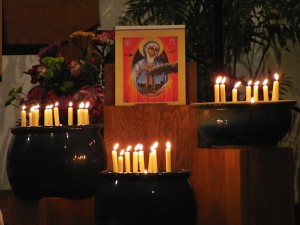 . . .
As followers of the nonviolent Christ, we want to proclaim an alternative way of living in a world of violence and strife–one committed to healing, reconciliation, and peace.  To help us on this journey, we have several opportunities for involvement at Incarnation.
Just Peacemaking Initiative: The Challenge and Promise of Nonviolence for Our Time – This is a twelve-week offering from JustFaith Ministries that helps to open a space for prayer, reflection, learning, and thoughtful, respectful conversation around how we can work together to build cultures of peace in our communities and world.  We had about 15 parishioners go through this small-group process in the spring of 2013 and look forward to another group forming in the 2013-2014 program year.
Pax Christi – Our parish community is in the process of beginning a local Pax Christi chapter.  If you are interested, please contact our Coordinator of Justice & Charity in the office (justiceandcharity@incarnationparish.org) or parishioner Anne Deane (annedeane59@gmail.com).
Pax Christi Pray-Study-Act Resources – If you would like to receive regular emails containing prayers, updates, and action alerts about peaceseeking efforts taking place in the US and internationally through Pax Christi, please click on the link and fill in your information to subscribe.
Eyes Wide Open – Our parish has partnered with the Charlottesville Center for Peace and Justice in 2011 and 2012 to display the "Eyes Wide Open" exhibit, a display of shoes of soldiers from Virginia and civilians from Iraq and Afghanistan who have lost their lives in war.  Through this display, we have hoped to honor the lives lost and unite around the sadness and grief that result through armed conflict, as well as to provide educational materials about the Catholic Church's stances on war, conflict, peace, nonviolence, etc.
Opportunities for prayer and reflection – Throughout the year, there are various days/evenings of reflection and prayer services that are often connected to days of commemoration (International Day of Peace, World Day of Peace, anniversaries of the beginning/ending of conflicts, etc.).  Keep up-to-date on these offerings by checking the bulletin and listening to Parish Family Business.