IMPACT Community Organizing
"And what does the LORD require of you but to do justice, and to love mercy, and to walk humbly with your God?" [Micah 6:8]
. . .
IMPACT stands for "Interfaith Movement Promoting Action by Congregations Together."  It is a grassroots initiative comprised of 27 diverse faith congregations in the Charlottesville-Albemarle area who wish to live out and work in response to the common call for justice found in each of our traditions.
Upcoming Dates: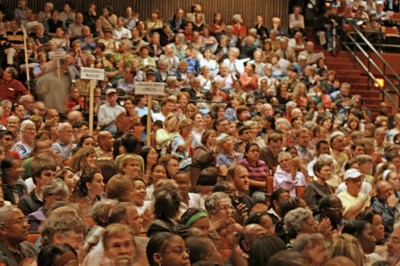 Tuesday, October 30, 2018 – Annual Assembly (vote on problems)
TBD – Justice and Peace Mass and Incarnation Network Meeting
Tuesday, March 12, 2019 – Rally, 6:30 pm, Incarnation
Tuesday April 9, 2019 – Nehemiah Action, 6:30 pm,  MLK Performing Arts Center
Tuesday, May 21, 2019 – Justice Ministry Celebration, location TBD
. . .
The Church of the Incarnation is a founding and active member of IMPACT, which began in 2006 and aims to bring a greater degree of justice and equality to the greater Charlottesville area.  Not only is IMPACT achieving significant changes in Charlottesville and Albemarle County, but we are also bridging racial, socioeconomic, and religious divides in order to make those decisions to effect change in our community.
In the past eight years, our work has centered upon providing mental health services for ex-offenders, expanding public bus service, increasing access to free dental care, developing affordable housing, expanding access to early childhood education, and increasing interpretive services.  This year (2014-2015), we are monitoring the campaigns on youth unemployment and mental health that had such positive commitments at the 2014 Nehemiah Action.  We look forward to what we will accomplish with our new Crime and Drugs initiative!
. . .
Check out impactcville.com for much more information.  If you would like to learn more or to get involved with our IMPACT team, please contact Janie (janieck3510@hotmail.com) or our Coordinator of Justice & Charity in the office (justiceandcharity@incarnationparish.org).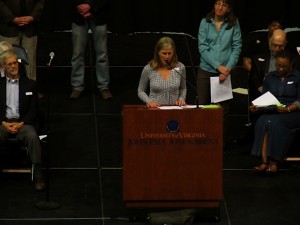 Colleen Keller, executive director of PACEM, expresses her support for the homelessness roundtable at the 2013 Nehemiah Action
IMPACT UPDATES:
IMPACT Crime and Drugs Initiative
At our research kickoff on November 17th, we decided to narrow our area of focus to how substance abuse affects women and their families in our area.
IMPACT Mental Health Initiative
Psychiatric care
The problem:
We know of 376 students in our public schools seriously considered suicide last year. Kids in crisis who need psychiatric help and medication management may wait up to 6 months to see a psychiatrist; during this wait the crises continue.
The solution:
We aren't going to accept that the current situation is the best that our community can do. Our research committee is at the point where we can now start dreaming of what is possible; what do we want to see for our city?
Region Ten has committed to moving toward 40 hours of child psychiatric care!
First Rung Healthcare Careers Collaborative  12/20/13
The problem:
IMPACT has worked over the past two and half years on the problem of youth unemployment that impacts an estimated 3,000 young adults.  One of the largest barriers for young adults is the cost of training programs leading to careers that can support a family. Virginia Workforce estimates growth of about 12,000 healthcare positions between now and 2018.
A solution:
We are asking the UVA Health System to fund a pilot program that has 30 local participants at approximately $3,000 each, totaling $90,000 that will begin in August 2014, the start of Piedmont Virginia Community College's fall semester. 
With God's support, UVA has applied for a grant to cover IMPACT's suggested collaborative, and even expand the proposed number of students from 30 to 50.  Keep checking for more updates as this grant proposal progresses!
Homelessness Issue Update
3/10/14 Update
The organizations who work with people experiencing homelessness are working together in a common round table (TJACH), and using a common entry system.  Because of that, we have been able to receive significantly more state and federal grant money in the Charlottesville/ Albemarle area.  This money has been used for training, rapid re-housing, and a full time intake staff person.
Through rapid rehousing funding, 22 homeless people are off the streets.
27 people have received Social Security benefits through the SOAR training (SSI/SSDI Outreach, Access, and Recovery) of area service providers.