As people of faith, we believe that prayer, reflection, and openness to transformation must all be part of our engagement in social ministry.  Each of these areas, as well as action, are crucial as we seek to grow as disciples of Christ and to be true to the calls of the Gospel.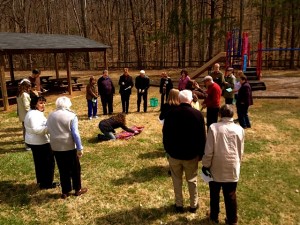 Closing prayer service at the Spring 2013 Day of Reflection
…
How do we incorporate these spiritual practices into our social ministry?
Days of Reflection – typically held once in the spring and once in the fall; made up of prayer, small group discussion, activities, and large group reflections/presentations
Evenings of Reflection – typically held during Advent and Lent; offer an opportunity for centering, praying, and sharing our journeys in light of our baptismal call to discipleship and Gospel living
Prayer Services – held to commemorate events such as the International Day of Peace, International Day for the Abolishment of Capital Punishment, Martyrdom of Oscar Romero, etc. or to incorporate Catholic Social Teaching themes into forms of prayer (i.e. Social Justice Stations of the Cross)
Movie and/or Discussion Nights – focused on issues such as immigration, capital punishment, criminal justice, environmental justice, etc.; often have an opportunity for fellowship and community-building as well
Watch the bulletin for information about these sorts of opportunities that arise throughout the year!  Some of us may feel more called to prayer and reflection while others are drawn to action and change, but as Catholic Christians, the two go hand in hand as we work to bring our world in line with God's vision for God's people!
. . .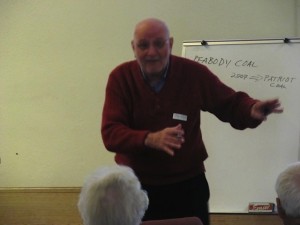 Fr. John Rausch, director of the Catholic Committee of Appalachia, at the Spring 2013 Day of Reflection