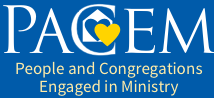 The work of PACEM is housing the homeless in various congregations throughout the cold weather months.  At Incarnation, we usually host about the men in the PAC for two weeks at the end of November.  See below for more details!
At the end of life we will not be judged by how many diplomas we have received, how much money we have made, how many great things we have done. We will be judged by "I was hungry, and you gave me something to eat, I was naked and you clothed me. I was homeless, and you took me in. 
– Saint Teresa of Calcutta
PACEM Documents
Job-Descriptions-for-PACEM-during-Covid
Pacem Guidelines – Volunteer Manual
We usually host PACEM guests in the Parish Activities Center for 2 weeks each year.  When we help with the hosting this fall, we will, once again, need hundreds of parishioners to serve our guests by providing food, buying water, making reminder calls, and assisting with a variety of other tasks.  If you would like to be involved in one of the many jobs that are necessary while we are hosting, you can  sign up online once the dates are closer!
If you would like to get involved with our PACEM committee, please contact Tom Eckman () or the Coordinator of Justice & Charity in the office ().
If you would like to become more involved with the organization of PACEM, contact .
 To learn more about PACEM, click here for their website.– PACEM Rack Card
Our Mission
PACEM's mission is "To bring together the faith community of the greater Charlottesville area to provide temporary shelter, compassionate support, and access to services to homeless individuals, so they can move to a stable housing solution. This work can only be achieved by forging partnerships in the larger community."
Shelter of Last Resort
Because PACEM is a shelter of last resort, we are sometimes required to help individuals recognize that they have other choices. There are a variety of reasons why a guest may be referred elsewhere, encouraged to move forward, or assigned a limited length of stay. The most common reasons are housing or supportive resources in a nearby community.
Social Justice Quotes
Life's most persistent and urgent question is: What are you doing for others?

– Martin Luther King, Jr.

It is no use saying we were born two thousand years too late to give room to Christ. Nor will those who live at the end of the world have been born too late. Christ will always be with us, always asking for room in our hearts…we are not born too late. We do it by seeing Christ and serving Christ in friends and strangers, in everyone we come in contact with. All this can be proved, if proof is needed, by the doctrines of the Church. We can talk about Christ's Mystical Body, about the vine and the branches, about the Communion of the Saints. But Christ Himself has proved it for us, and no one has to go further than that. For He said that a glass of water given to a beggar was given to Him. He made heaven hinge on the way we act toward Him in His disguise of commonplace, frail, ordinary humanity.

– Dorothy Day

It is not love in the abstract that counts. Men have loved a cause as they have loved a woman. They have loved brotherhood, the workers, the poor, the oppressed – but they have not loved
humanity, they have not loved the least of these. They have not loved 'personally.' It is hard to love. It is the hardest thing in the world, naturally speaking…it is never the brothers right next to us, but the brothers in the abstract that are easy to love.

– Dorothy Day

Into this world, this demented inn, in which there is absolutely no room at all, Christ has come uninvited. But because he cannot be at home in it – because he is out of place in it, and yet must be in it – his place is with those others who do not belong, who are rejected because they are regarded as weak; and with those who are discredited, who are denied the status of persons, and are tortured, exterminated. With those for home there is no room, Christ is present in this world.

– Thomas Merton

We cannot do great things. We can only do little things with great love.
– Blessed Mother Teresa of Calcutta

There are many in the world dying for a piece of bread but many more dying for a little love. The poverty in the West is not only a poverty of loneliness, but also of spirituality. There's a hunger for love, as there is a hunger for God.
– Blessed Mother Teresa of Calcutta

Love means an interior and spiritual identification with one's brother, so that he is not regarded as an object to which one does good. Good done to another as an object is of little or no spiritual value. In fact, it is a tragedy which destroys him who does that sort of thing. Love takes on one's neighbor as one's other self, and loves him with all the immense humility and discretion and reserve and reverence without which no one can presume to enter into the sanctuary of another…the full difficulty and magnitude of the task of loving others should be recognized and never minimized. It is hard to really love others; if love is taken in the fullest sense of the word…I have often spoken of identification with the poor…it is an identification so deep, so complete, that it becomes part of oneself, like breathing. It is a way of loving.
– Catherine Doherty