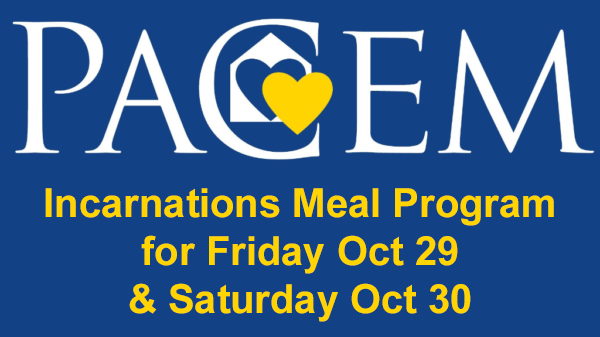 Church of the Incarnation PACEM Ministry October 29 and 30 PACEM Meals Program   
Thank you for helping out by feeding the hungry and passing on your love to those in need. The men and women appreciated the home cooked meals and the desserts that you provided. And we really enjoyed watching our parish come together again to support our PACEM friends. Again Thanks for Supporting our PACEM Mission – Lets do it again
Incarnation will prepare 72  meals/night for PACEM for Friday, October 29, and Saturday, October 30. We need meal cooks, dessert providers, food deliverers and day coordinators.
Please signup.  This is an opportunity to help folks in need and share in God's Abundance.
Also, visit our PACEM (Help the Homeless) page to learn of more ways you can help.