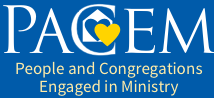 How we can support the work of PACEM here at the Church of Incarnation
Historically, area churches have provided safe and comfortable shelter during the winter months through PACEM.
With the development of the Premier Circle project at the old Red Carpet Inn, supporting the homeless will be a lot different this year. Through the efforts of five non-profits—Charlottesville Area Community Foundation (CACF), Piedmont Housing Alliance (PHA), Thomas Jefferson Area Coalition for the Homeless (TJACH), Virginia Supportive Housing (VSH), and People and Congregations Engaged in Ministry (PACEM)—work has already been completed on phase 1 of renovating 50 rooms for the homeless. Phase 2—the renovation of an additional 25 rooms—is nearly complete. Overall, this is part of a multi-year program to create supportive housing for many people in need. As a result of these building projects, the number of rooms used as emergency shelter at Premier Circle will decrease in phases and will eventually reach zero.
Below is an excerpt from an April news article that features Jayson Whitehead, the director of PACEM:
Phase one of the Premier Circle project is already well underway. Crews are cleaning and renovating 115 former motel rooms that will become a TJACH-led emergency non-congregate shelter fully staffed by PACEM. "It's a pretty big expansion of what PACEM is," said Whitehead. Traditionally, PACEM has only had three full-time staff (including Whitehead), and a few part-time staff, to staff their night shelters and provide case management. PACEM will staff this new shelter 24/7/365, so they have to hire "quite a few people," including shelter directors, shelter monitors and security positions, "Just really trying to ensure a safe and secure environment for everybody involved," said Whitehead.
They'll also supply the case management piece to help them move on and graduate into permanent housing. Many of the long-term guests of the Red Carpet Inn who've been staying at the Fairfield Inn, as well as a number of the PACEM guests who've been housed at the La Quinta, will be eligible for space in this particular non-congregate shelter, if they choose to apply.
Phase one is expected to last through June 2023, and near the end of that period, Virginia Supportive Housing will begin construction on 80 permanent supportive housing studio apartments.
There are some immediate ways that our church could help to support initial efforts. These include ministry opportunities in 4 areas:
Laundry

Property management

Organization of supplies

Creating a community garden

Hosting an event (TBD)
PACEM Volunteering Sign-Up Genius
Product donations most needed
All these are links to an Amazon wish list
Below is a link to an article that provides useful background information of the entire project:
Area nonprofits resort to buying a hotel to address local housing and homelessness crisis