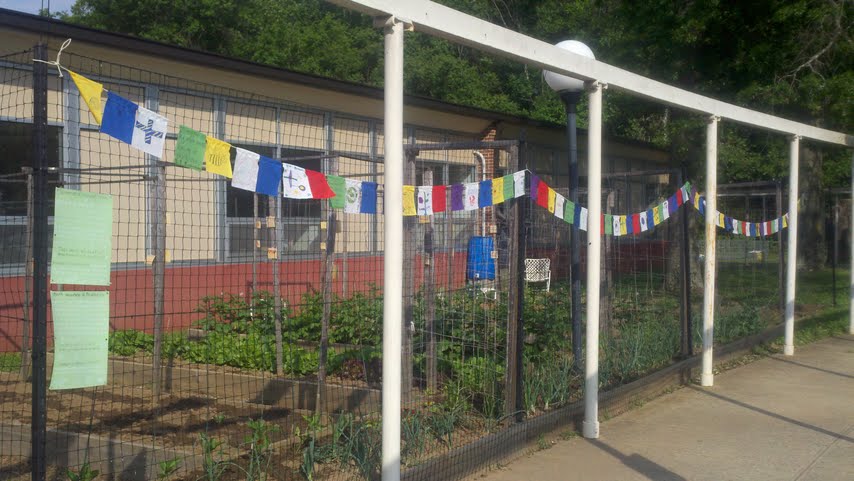 Community garden
. . .
"Our tradition calls us to protect the life and dignity of the human person, and it is increasingly clear that this task cannot be separated from the care and defense of all of creation." [USCCB, Renewing the Earth, 1991]
In the summer of 2011, our Green Team began planning for a community garden here at Incarnation to make use of open space that we had in a way that would both care for the land and provide much-needed fresh, healthy produce for families experiencing food insecurity.  We gathered help, cleared the area, and constructed eleven raised beds for growing spring, summer, and fall crops.  Every year since, we have had great crews of parishioners who help care for the garden, harvest the produce, and learn more about gardening. For the first few years, the produce benefitted our parish food ministry, but with increased donations of produce, we've transitioned to a "design your own" model, where parishioners can sign up for a whole or half plot for the growing season.  Please contact Sheila Herlihy, our Coordinator of Justice & Charity in the office () or Janie Eckman () if you are interested in a garden plot for next year, or if you have an idea of another contribution you would like to offer to the garden.
. . .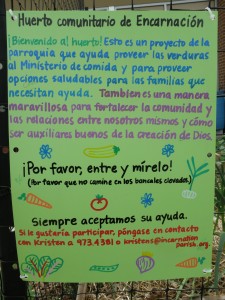 One of our Spanish garden sign (alongside one in English)
. . .
We want our garden to be a place where our whole community feels welcome and can learn!  Please check out the garden–feel free to come inside and explore!  Feel free to pick one of the vegetables and give it a try.  Bring kids into the garden too so that they can learn more about where their food comes from and how we can take care of God's gifts of creation.  However, please do not walk on the beds, and be sure to shut the gate behind you.