Below you will find audio from Mass and other events that have been held at Incarnation.  Subscribe to our podcast feed if you would like to automatically receive updates when new audio files are posted.
First Sunday of Lent (Mark 1:12-15)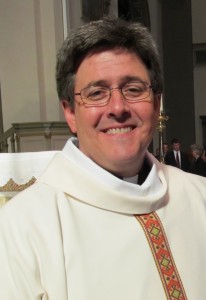 Dea Tom Healey, February 18, 2018
Part of the
Homily
series, preached at a
Sunday Early Morning Mass
service
Mark 1:12-15
12 The Spirit immediately drove him out into the wilderness. 13 And he was in the wilderness forty days, being tempted by Satan. And he was with the wild animals, and the angels were ministering to him.
14 Now after John was arrested, Jesus came into Galilee, proclaiming the gospel of God, 15 and saying, "The time is fulfilled, and the kingdom of God is at hand; repent and believe in the gospel." (