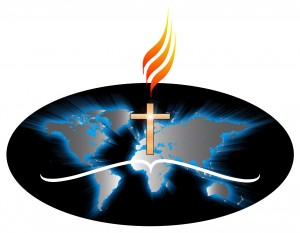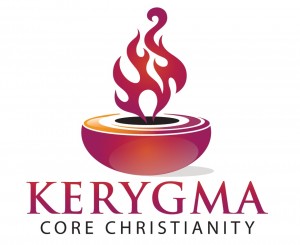 Contacts:
César Rivas, Kerygma Minister
phone: (434) 566-8959
e-mail:  cesartrinidadrivasg@yahoo.com
Fr. Edwin Montanez,  Parochial Vicar
phone: (434) 973-4381
e-mail:  edwinm@incarnationparish.org
NEWS / NOTICIAS
Kerygma featured in The Catholic Virginian / Kerygma prosentado en The Catholic Virginian
Kerygma Directory with Photos (pdf)
Meetings:
TUESDAYS
6:00 PM Kerygma Rehearsal
7:00 PM Kerygma Bible Study / Small Group
SATURDAYS
6:00 PM Kerygma Classes
7:00 PM Kerygma Worship Group
Fotos de foto shop comunidades – 07/20/13: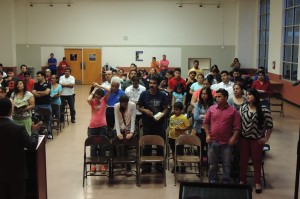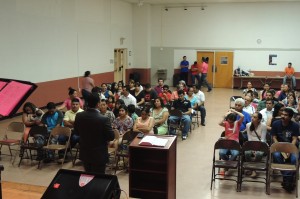 Video: Kerygma at Incarnation & Diocese of Richmond
Video: vigilia de pentecostes 2013
Charisma and Organization
Charisma followed by Catholic Ministry Kerygma (MCK) is based on the command of our Lord Jesus Christ, who in the Gospel According to Saint Mark, Chapter 16, verse 15, he said to his apostles: " Go into all the world and proclaim to all the message of salvation."  This charisma is reflected even in the name of the Ministry, as Kerygma means "proclaiming,"  charisma our ministry is evangelization, proclaim the good news of the gospel of our Lord Jesus Christ, is the one we love to do.
WHO WE ARE
We are a movement of the Catholic Church, in the service of God and his people.
We are a community that loves the Church of Christ.
We are a community devoted to the Mother of Christ, the Virgin Mary.
We are a community living the sacraments.
We are a group of people who have encountered the Risen Jesus, experiencing salvation, deliverance and new life.
We are a community of worshipers in Spirit and Truth of God living.
We are one community strength renewed by the Holy Spirit.
We are a community united with one heart and one soul.
We evangelized and evangelizing community.
We are a community witness to the love of God and proclaiming his word.
We are a group of lay people committed to the values of the kingdom of God.
We are a community that changes your world and not allowed to change by.
Carisma y Organización
El Carisma seguido por el Ministerio Católico Kerygma (MCK) se basa en el mandato de nuestro Señor Jesucristo, quien en el Evangelio Según San Marcos, Capítulo 16, versículo 15, les dijo a sus apóstoles: "Vayan por todo el mundo y anuncien a todos este mensaje de salvación".
Este carisma es reflejado incluso en el nombre del Ministerio, ya que Kerygma significa "Anuncio de Salvación.
El carisma de nuestro Ministerio es la evangelización, anunciar la buena nueva del evangelio de nuestro Señor Jesucristo, es la que más nos apasiona hacer.
¿QUIÉNES SOMOS?
Somos un movimiento de la Iglesia Católica, al servicio de Dios y de su pueblo.
Somos una comunidad que ama a la Iglesia de Cristo.
Somos una comunidad devota de la madre de Cristo, la Virgen María.
Somos una comunidad que vive los sacramentos.
Somos un grupo de personas que se ha encontrado con Jesús Resucitado,experimentando la salvación, liberación y vida nueva.
Somos una comunidad de adoradores en Espíritu y en Verdad del Dios viviente.
Somos una comunidad renovada por la fuerza del Espíritu Santo.
Somos una comunidad unida con un solo corazón y una sola alma.
Somos una comunidad evangelizada y evangelizadora.
Somos una comunidad testigo del amor de Dios y que proclama su palabra.
Somos un grupo de laicos comprometidos con los valores del reino de Dios.
Somos una comunidad que cambia su mundo y no se deja cambiar por el.