Below you will find audio from Mass and other events that have been held at Incarnation.  Subscribe to our podcast feed if you would like to automatically receive updates when new audio files are posted.
Homily - 2nd Sunday of Advent (Mark 1:1-8)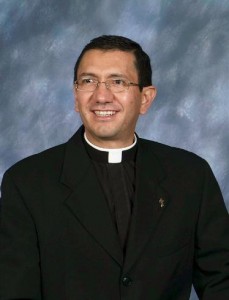 Fr Edwin Montanez, December 4, 2011
Part of the
Homily
series, preached at a
Sunday Late Morning Mass
service
Mark 1:1-8
1:1 The beginning of the gospel of Jesus Christ, the Son of God.
2 As it is written in Isaiah the prophet,
"Behold, I send my messenger before your face,
who will prepare your way,
3 the voice of one crying in the wilderness:
'Prepare the way of the Lord,
make his paths straight,'"
4 John appeared, baptizing in the wilderness and proclaiming a baptism of repentance for the forgiveness of sins. 5 And all the country of Judea and all Jerusalem were going out to him and were being baptized by him in the river Jordan, confessing their sins. 6 Now John was clothed with camel's hair and wore a leather belt around his waist and ate locusts and wild honey. 7 And he preached, saying, "After me comes he who is mightier than I, the strap of whose sandals I am not worthy to stoop down and untie. 8 I have baptized you with water, but he will baptize you with the Holy Spirit." (