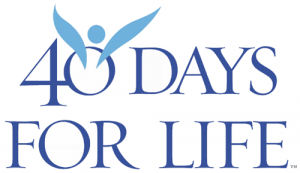 40 DAYS FOR LIFE, a peaceful, prayerful vigil, is September 27 through November 5, when we pray for an end to abortion. Bring your rosary or prayer book, and join us on the sidewalk in front of the Planned Parenthood at 2964 Hydraulic Road (park at the Albemarle Baptist Church, directly
across the street; or at Drillers [near their fence], just south of Planned Parenthood on Hydraulic). Sign up online to pray for an hour anytime, and especially come on Tuesday, the day Incarnation will be there. Sign ups for that day are on the table in the narthex – sign up to come the same hour every week.
If you have any questions contact Nancy Strassburg, nancys735@comcast.net or 434-973-3698.